BIMkeeper
Web-based building management system with advanced 3D IFC viewer. Store all information and BIM models. Organize your development process, maintenance and support
Check out our demo sites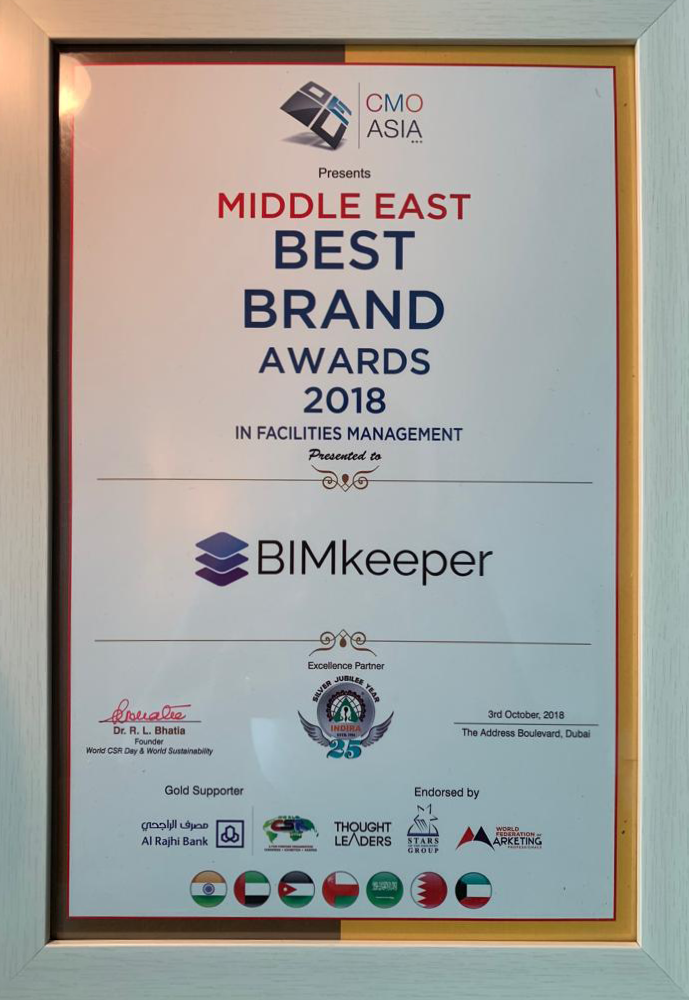 BIMkeeper won the Middle East Best Brand Award 2018 in the category facility management!
In the cloud
BIMkeeper is an online collaboration platform for the development and maintenance of real estate, complying to ISO 19650 (based on former BSI PAS 1192-3) for BIM. And offering 6D BIM-technology.
3D viewer
BIMkeeper renders BIM-models in a web browser, including all element information, quantities and measurements.You can also add data to the model! The viewer and all associated information are IFC-based.
Geo information
Integration with Google Maps, Street View, OpenStreetMap and datasets in WMS / WFS / MWTS.You have direct insight in the geographic distribution of your real estate.
Manage documents
You can of course setup a blockchain, but BIMkeeper also offers robust technology: all actions are logged, access is role based, versioning is in place and your backups are safe.
Access to data
BIMkeeper offers different views on data: 3D, 2D, map based, directories or using filters and queries on all data available. You can easily switch betweeen these views.
Dashboards
Give insight in the actual and personalized status of all your buildings. Are you in sync with laws and legislations, are there urgent repair requests, is fire safety in place and much more.
Mobile/Tablet
A large part of BIMkeeper is responsive, especially all functionalities and overviews that are used by managers and (external) stakeholders, like tenants, suppliers, etc.
Several apps
BIMkeeper offers several apps. An automated assigned monthly check on fire safety can easily be handled using a mobile phone only. Most used is of course our app for (repair) requests.
Spaces
It is not necessary to model every single detail of a building. Information can also be connected (3D) to spaces. The AC unit is in this room, brand xxx, type yyy.
Transparency
Show real time sensor information, the status of contracts or any other (live) information in the transparency mode. You can toggle between transparency and opaque.
External sources
We have many API's in place to connect with external sources. All source code is developed by IRP, so we can easily adapt to exchange information.