New selection mode (outline)
A new selection visualization type has been added to the viewer. This displays an outline of the object, and renders the object itself on top of what you're viewing.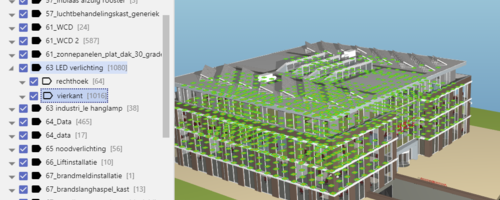 It offers two advantages compared to the default selection (green):
It allows you to see your selection even if it's hidden by other elements. Especially when using the "Types" tree, you can easily see the outlines of the elements and where they are located.

The original colour of the elements are preserved. This is especially useful when selecting spaces which have a color indicating their value (sensors, energy ratings, etc.).
Additionally, you can now also save your default view preferences (like selection) within the viewer settings screen. The changes are saved in your browser.
IRP bases all of its web development on the ISO 19650 standard for the development and full lifecycle of buildings. Formerly known as the BSI 1192-X. This standard has now been almost fully implemented in BIMkeeper.