Management and revisons of BIM models made easy
Our professional document management system in combination with the Project Management tool makes the maintenace and Revisions of models very easy. See how it works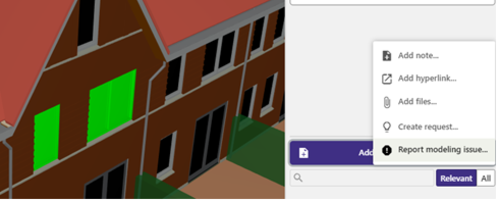 In many cases drawings need to be updated after changes in the construction of the buildings. Nowadays descriptions of these changes are done manually, often with markers on a floorplan. In the BIM era we can do better. In our 3D viewer, simply select the elements that have changed or are removed. An internal wall was removed because you needed a larger conference room? Just select the wall and the accompanying elements.
This information now immediately applies as input for the project management tool: a moderator to be chosen can then immediately start working on it.
And, when the new drawing comes back, it is placed it fully automated at the right complex in the right folder!
This whole process is therefore completely digital. You select the elements that are concerned, indicate what has changed and the end result comes fully automated to you. Of course you can also communicate with the modeller in the meantime And vice versa, of course.
Thanks to our advanced document management system, it is also virtually impossible to lose information. The version management system ensures that even if files are stored under the same name, a new version of the document is created. The old one always remains available.
IRP bases all of its web development on the ISO 19650 standard for the development and full lifecycle of buildings. Formerly known as the BSI 1192-X. This standard has now been almost fully implemented in BIMkeeper.