Happy 2021: with Design options challenge.
Place scalable and adaptable furniture, plants and other objects in the BIM model of this home. Wonderful scoop from our development team. Join the design competition.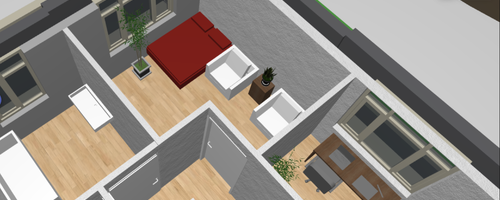 Now, of course, we mainly want to convey the best wishes to you. But at the same time, the technique we have developed to place scalable and adaptable objects in a BIM model, is probably a world first. At least, we have not yet seen that others have made this possible with only the use of a web browser.
The functionalities to directly adjust the size and colors of an object, for example, can be called revolutionary, to say the least. Have a look at Marcin's Dream House (under "Best Designs").
Now we use it in a small design competition, but you can undoubtedly imagine that this technology can also be used to capture an office design, or that of a shop or school. Because a created layout is easy to save, change and save again. The professional version management system in BIMkeeper also ensures that it is always possible to find out who has made which changes.
The umpteenth great feature in our already (very) extensive catalog. See Bimkeeper.com and demo.bimkeeper.com. We are very curious what you think of it, please send your feedback to contact@irp.nl
Our manual gives you an explanation of all features.
IRP bases all of its web development on the ISO 19650 standard for the development and full lifecycle of buildings. Formerly known as the BSI 1192-X. This standard has now been almost fully implemented in BIMkeeper.